Sonshine Village Update
January 2018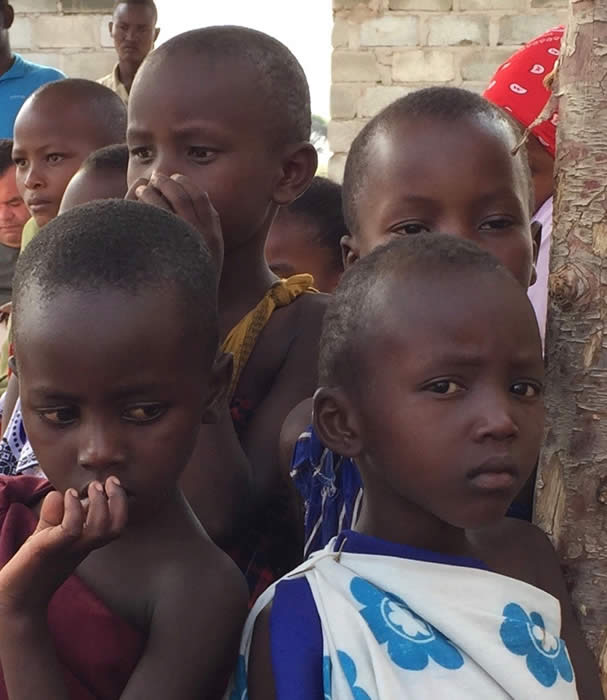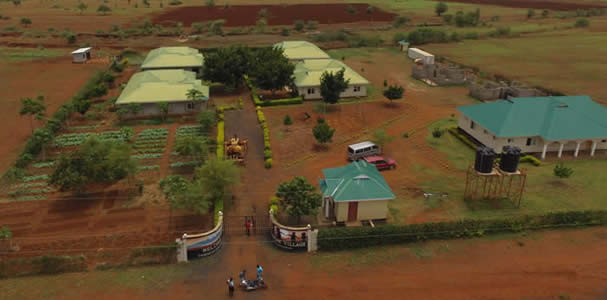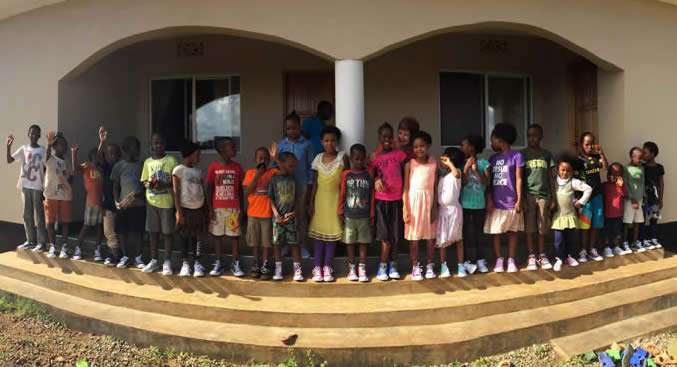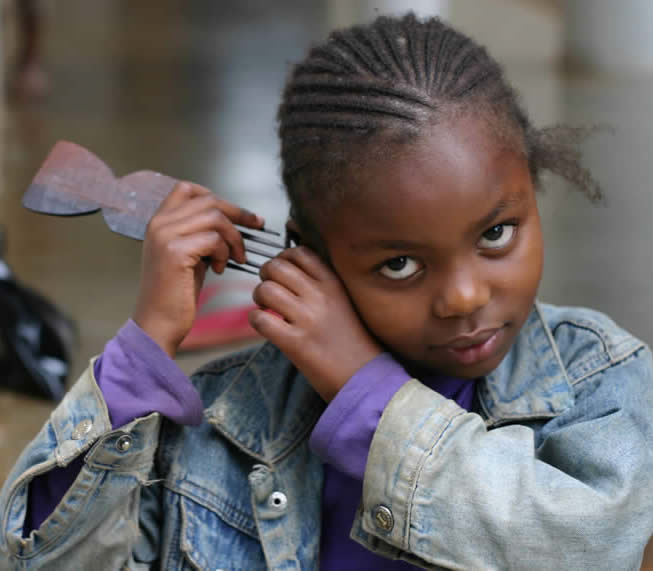 2017 was an exceptional year for our center. We hosted several mission teams with ministry in our local community, nearby schools, far way Maasai tribes, many churches, and of course to the children of Sonshine.
Some of our highlights for 2017
Mission trip in February where we received 6 kid from families who had lost their parents, these kids are really a gift to us and we have learned a lot for from their gentle spirit, and tender hearts. They are pure love.
Pastor Mark & Joanna Rogers from Fontana California spent about 6 months at Sonshine. They are a true blessing to our center and community. Mark spent time with many churches and pastors that we work with and really ministered to our children and staff. Joanna brought her gift of music to the home and through her efforts we now have a worship team in the making! Thanks to both of you!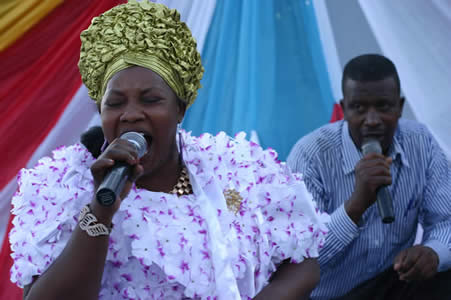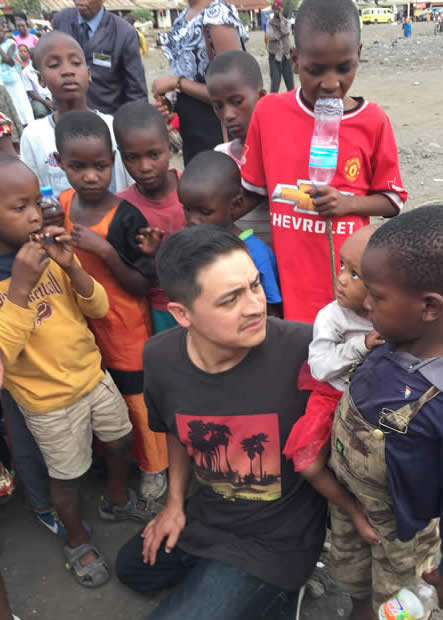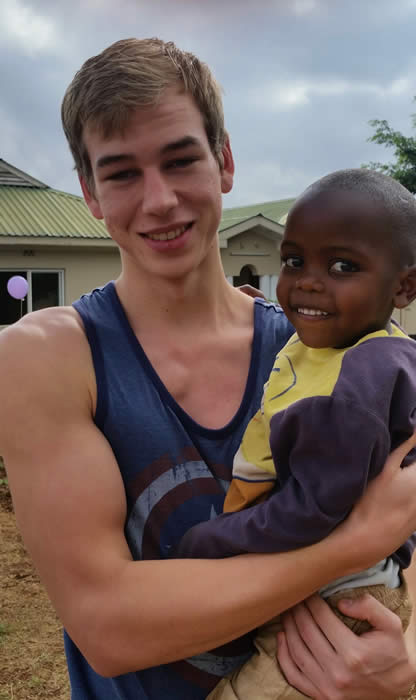 September we had a great trip with friends from Corona California. Altogether our ministry team numbered about 25. We ministered in the children's nearby school, made our way into the bush to spend time with our Maasai friends, what an experience to worship with these guys. We spent a day teaching the basics of Vacation Bible School to 130 Sunday School Teachers. After all that, the team held a 3 day on-site youth leadership conference with nearly 300 youth leaders. It was so powerful.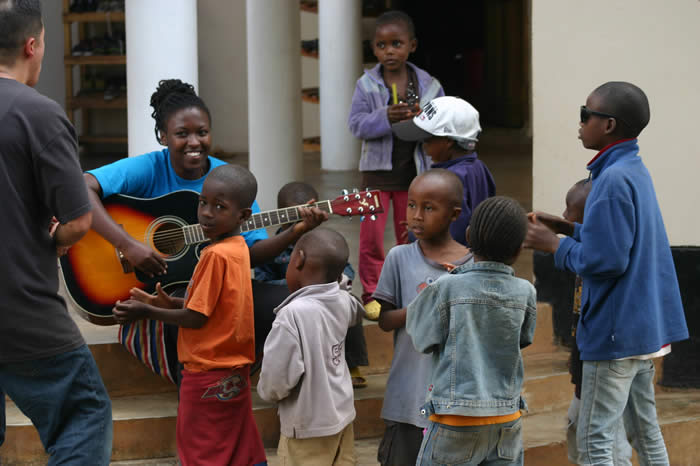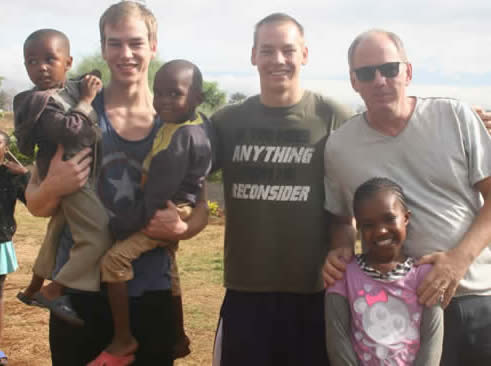 Finally, Ray & Melody traveled back to Sonshine in November and part of December to oversee final construction for Sonshine Home 3 and our new Dining Hall. With this completed, we are now able to "expand our tent pegs" and will be adding about 20 more orphaned children to our home. All this is only possible through with God's grace and your partnership.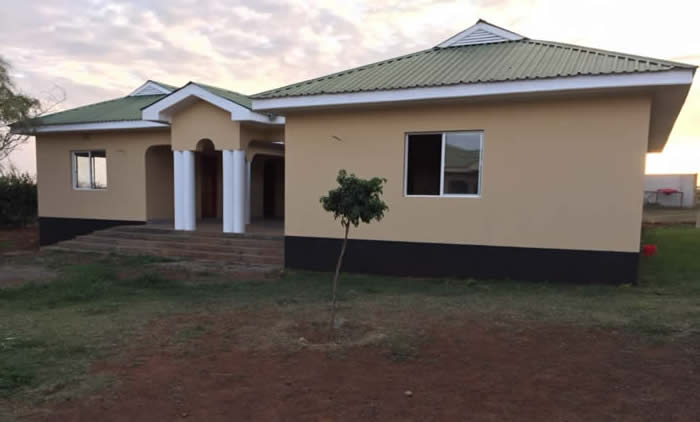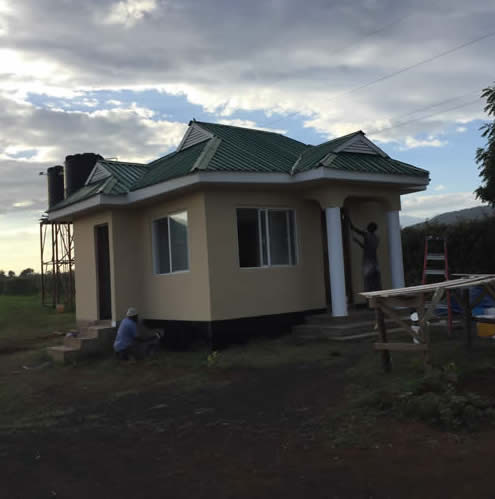 One area we are improving this coming year is to do a better job communicating with you, our donors. To this end, we want to remind you of our facebook page. We will be working to have more updates, news & photos posted. Please check it out!
You can follow our Facebook updates at: Sonshine Ministries International
---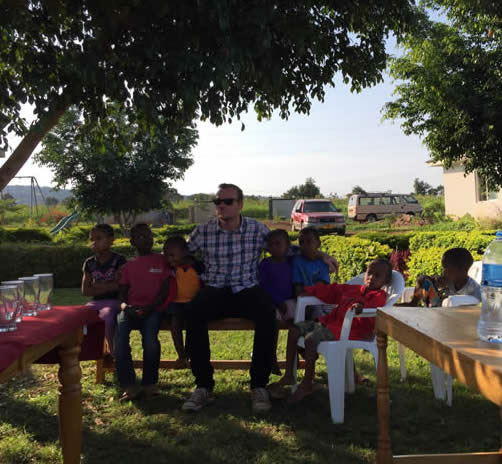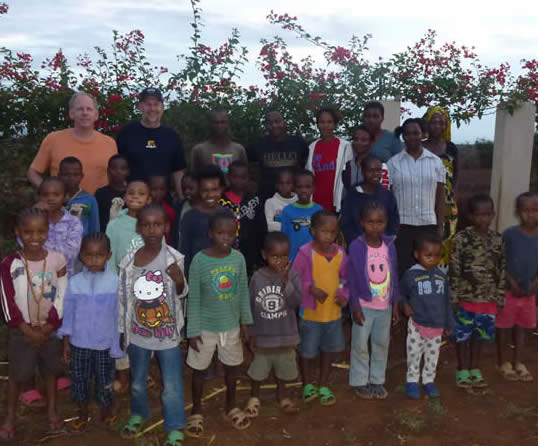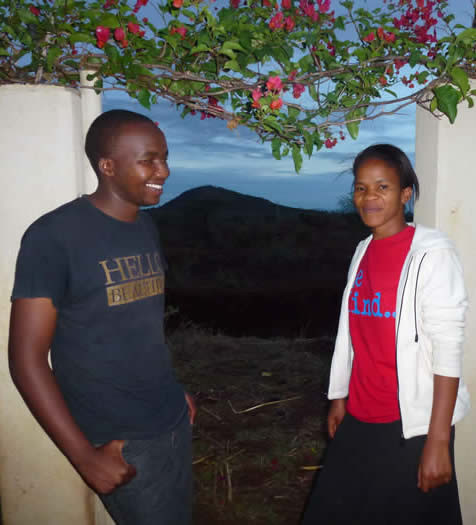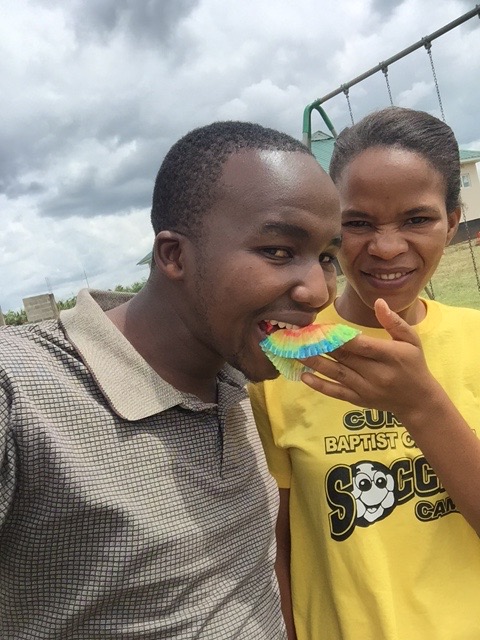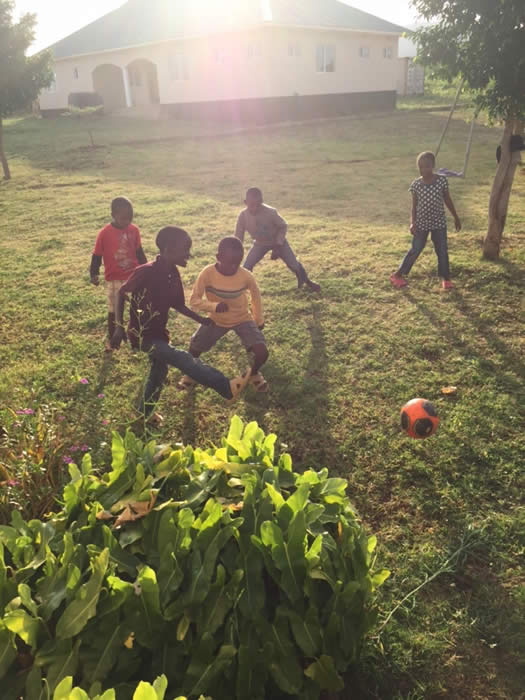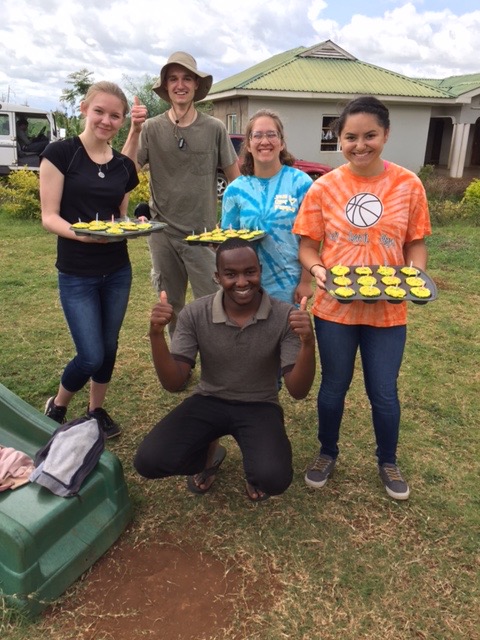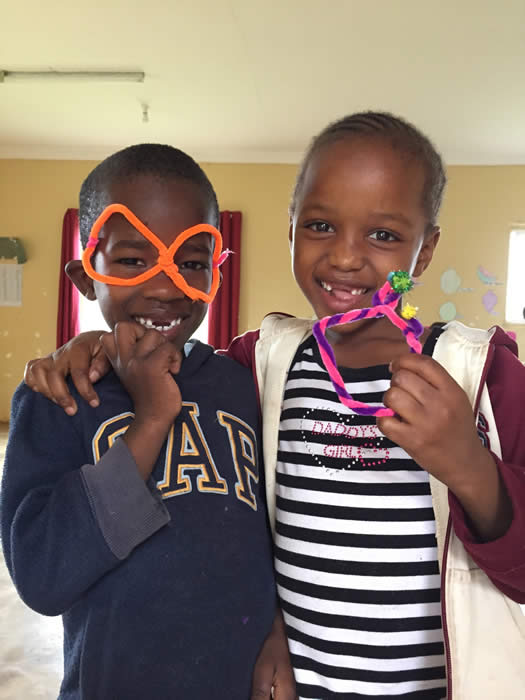 With the help of many generous partners, Sonshine has been steadily moving forward adding new children, more staff, and new construction projects. In the last year we have accomplished a lot and we want to share some of our achievements with you. We started with some simple upgrades; improving our guardhouse and adding storage area for equipment and supplies. We built outdoor restrooms for day use and also added more trees and landscape to provide shade and fruit to the center.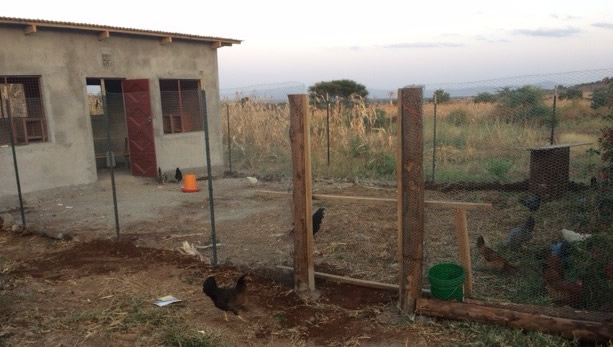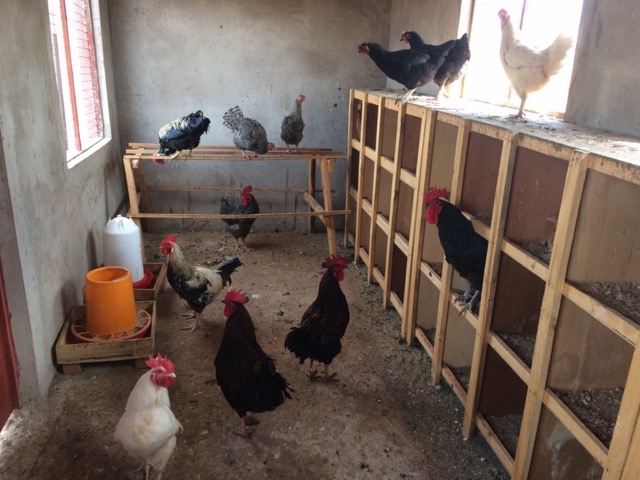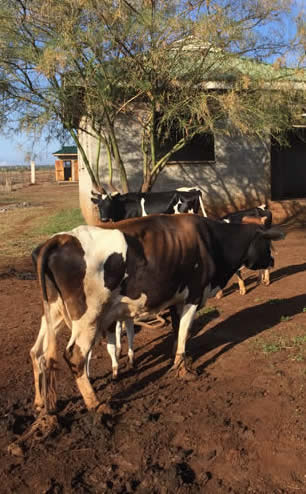 We then went to work constructing a quality chicken house capable of raising more than 100 layers. This has improved the diet for our kids and given relief to our monthly food budget. Sonshine has also been steadliy increaing the size of our dairy herd and we currently have 8 dairy cows and their calves.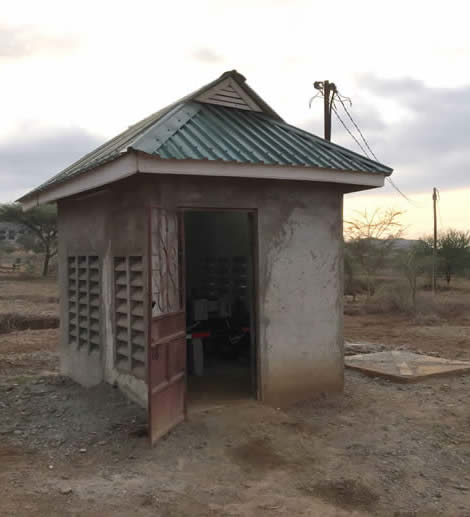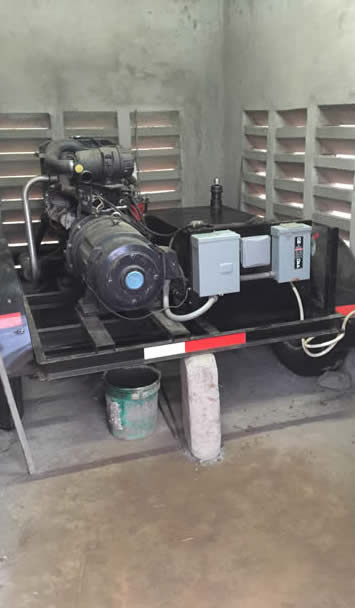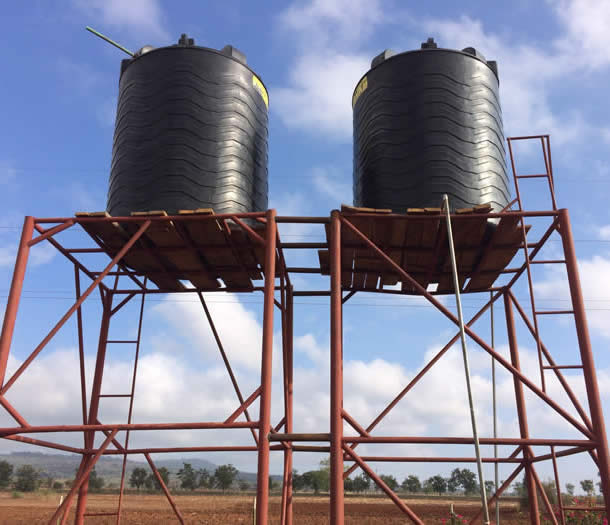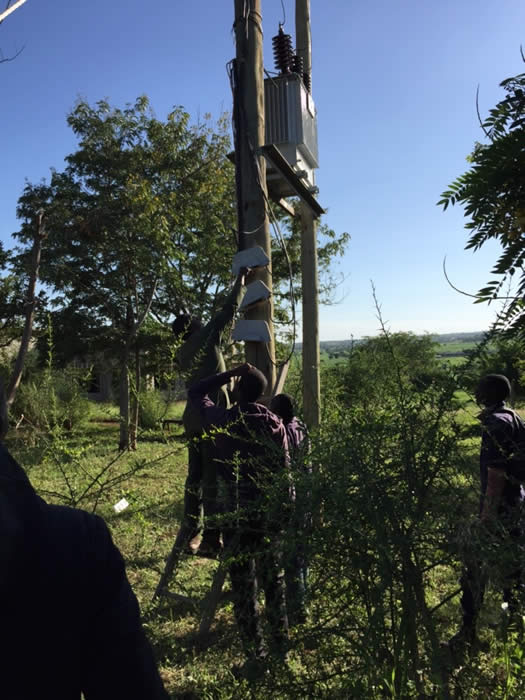 A long awaited improvement came in May when Sonshine finally was connected to the national electrical grid allowing us to have full time power and to use the generators as backup only. This has been a huge accomplishment for Sonshine and is a true answer to prayer. It also gives us the ability to expand all other areas of our ministry.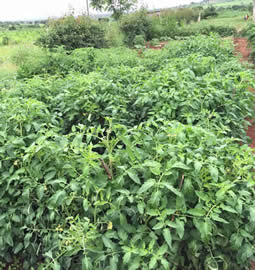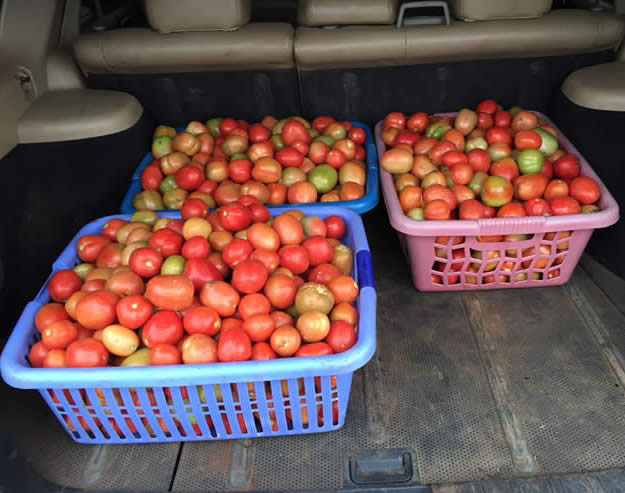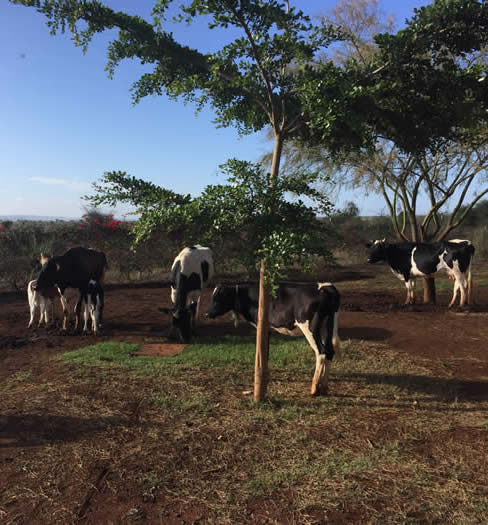 At the same time that we gained access to the grid, we increased our water storage from 2500 liters to 12,500 liters allowing us to expand our garden and also be certain we do not run low on water for other needs.  We are currently in the process of more than doubling our existing garden and hope to be near self-sufficient with much of our food needs soon.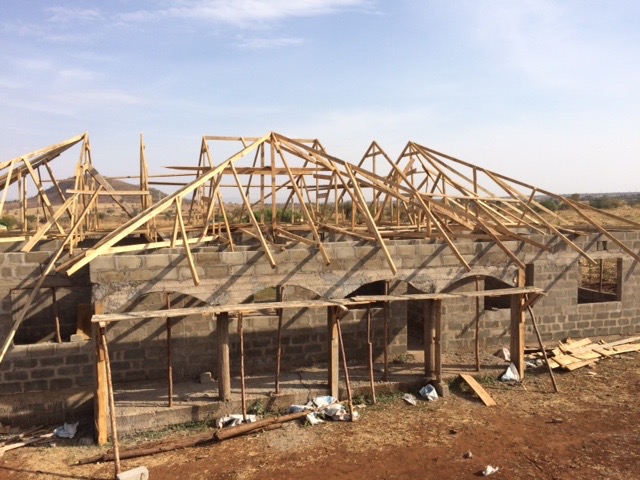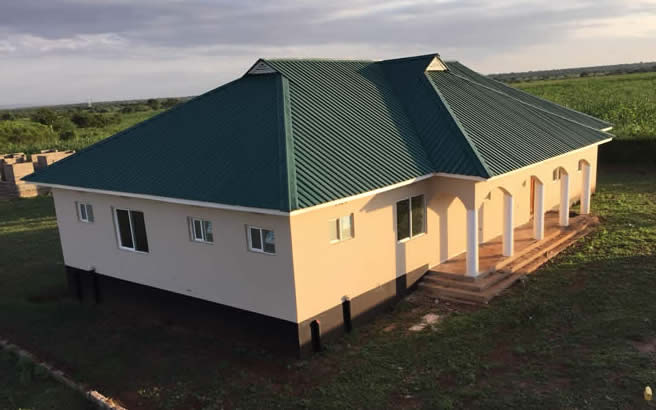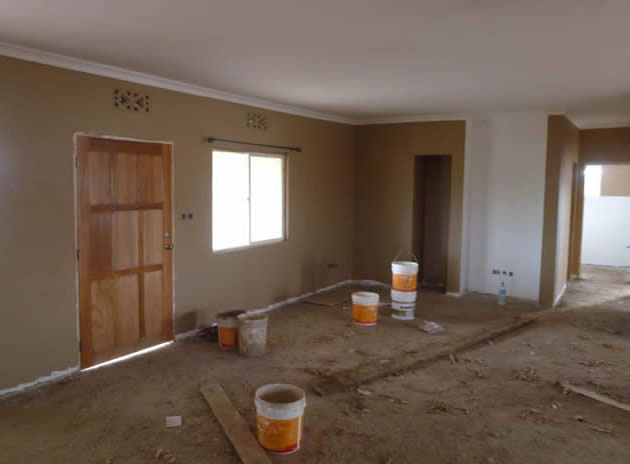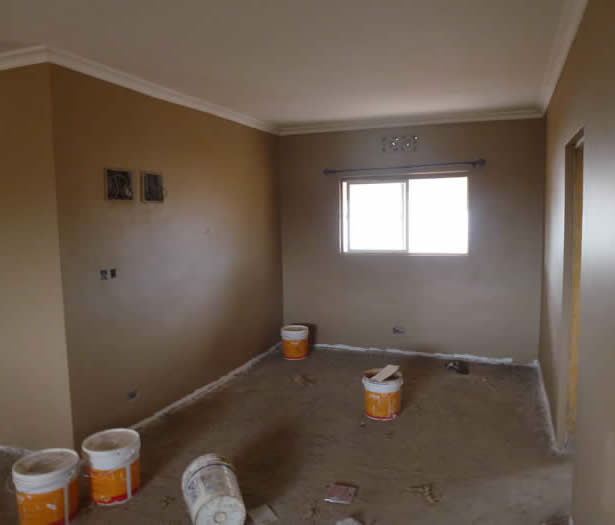 Our biggest project right now is the completion of our visitor's home. This building is nearly done and we expect to finish construction by October of 2016. The completion of this home will allow Sonshine to begin receiving western mission teams as large as 20 team members. We are excited to see how this will impact our area for the Lord.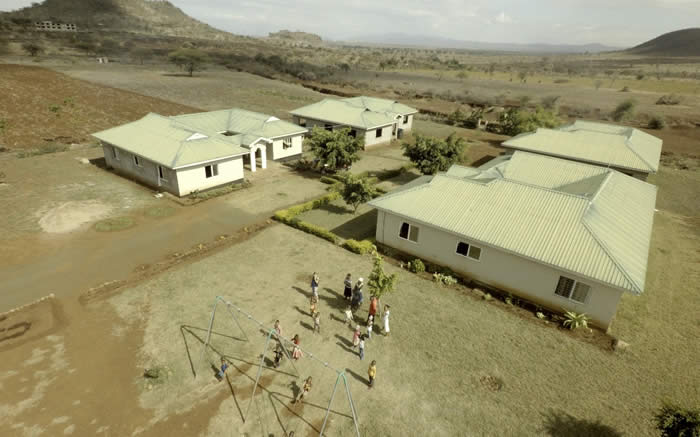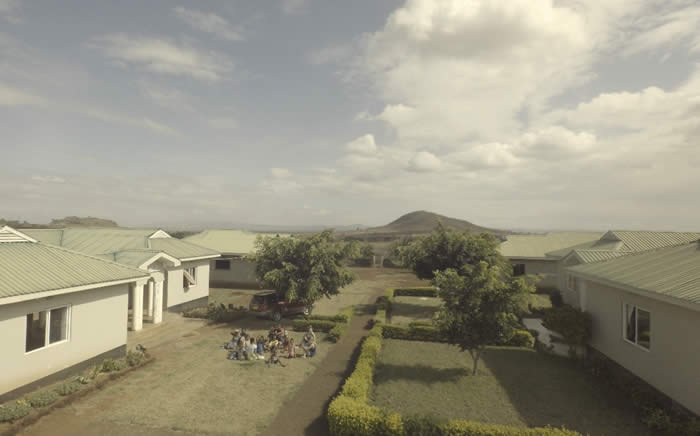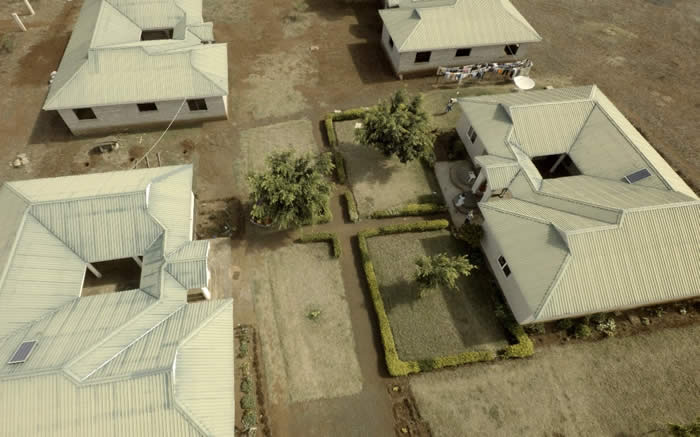 We were recently blessed to have a great guy, Eugene Chebotarev who stayed with us for a short time. Eugene is a gifted photographer who brought his drone helicopter with him. Through his skills, we now have some fun aerial shots of our center!
---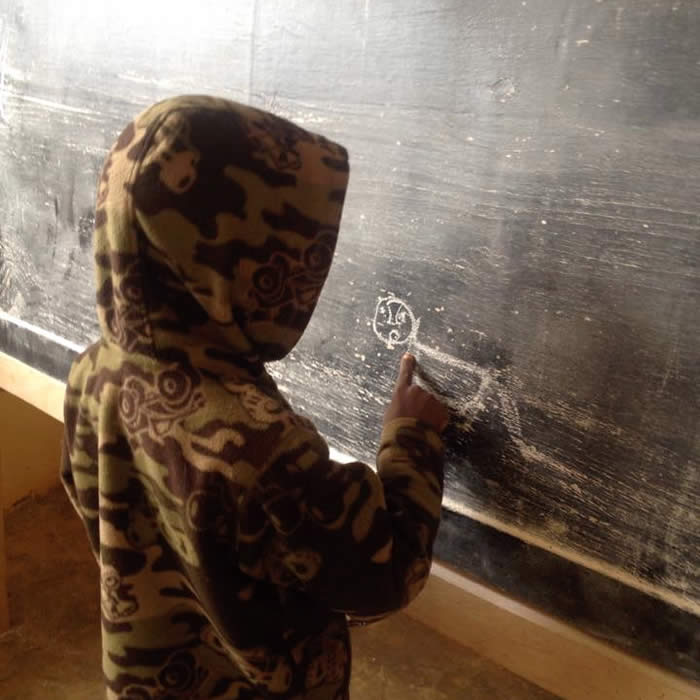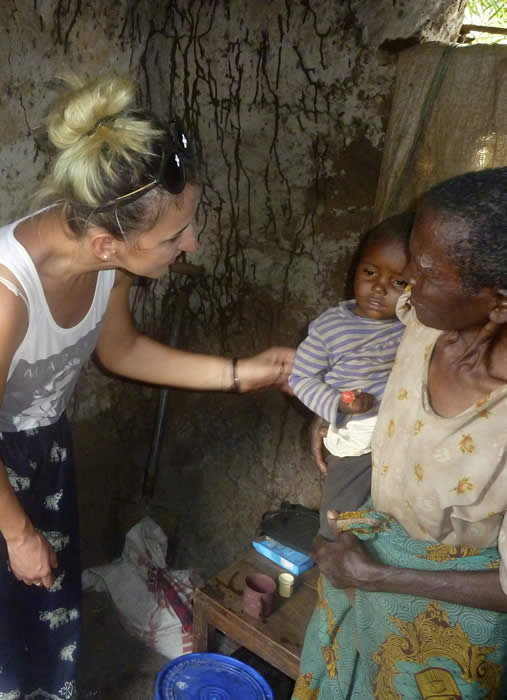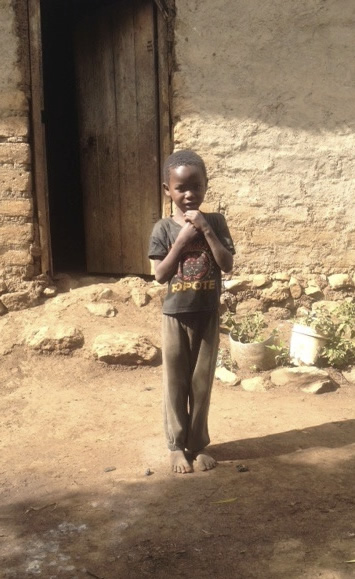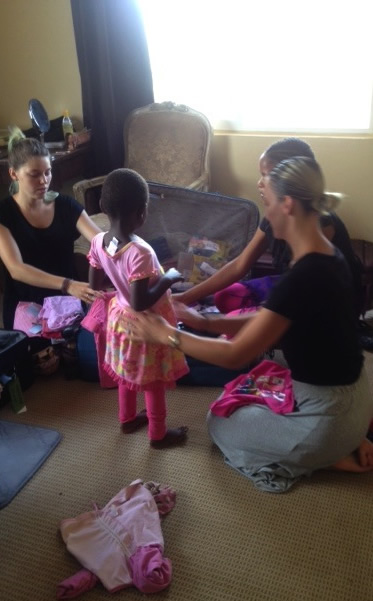 This year was a breakout year for Sonshine, we added more staff allowing us to rescue more more abused and orphaned children to our center including 6 children we have just received in November. Some of our new kids arrived in such poor condition we were not sure if they would survive; but with God all things are possible and even the most desperate of our children recovered from their terrible condition.
As an example, Angel and Joshua were just rescued in November. Angel is 2½ years old; when she arrived she weighed only 13 pounds, her organs were shutting down. Our U.S. missionaries Lilly and Virsavia faithfully cared for her, our staff made sure they had all that was needed to recover, our children rallied for her, praying and interceding, everyone rejoiced when her organs finally began to function. Both Angel and Joshua are now doing fine and growing healthy.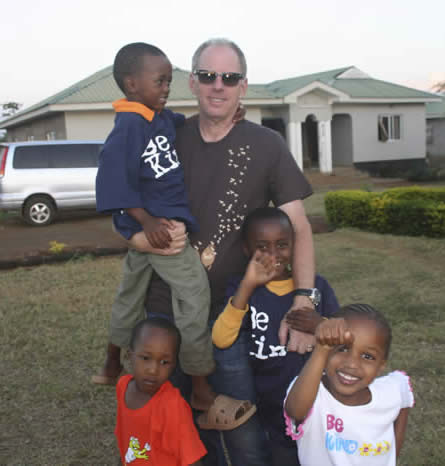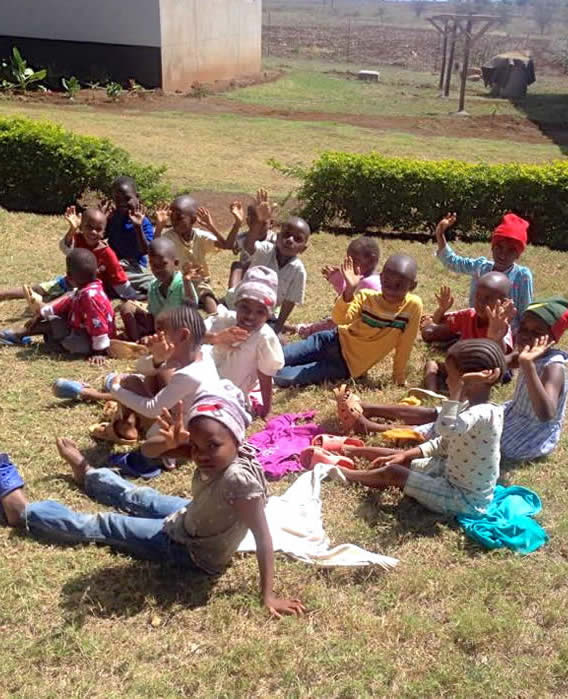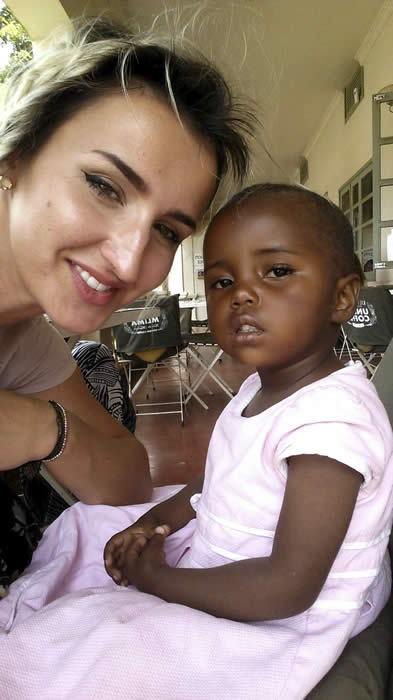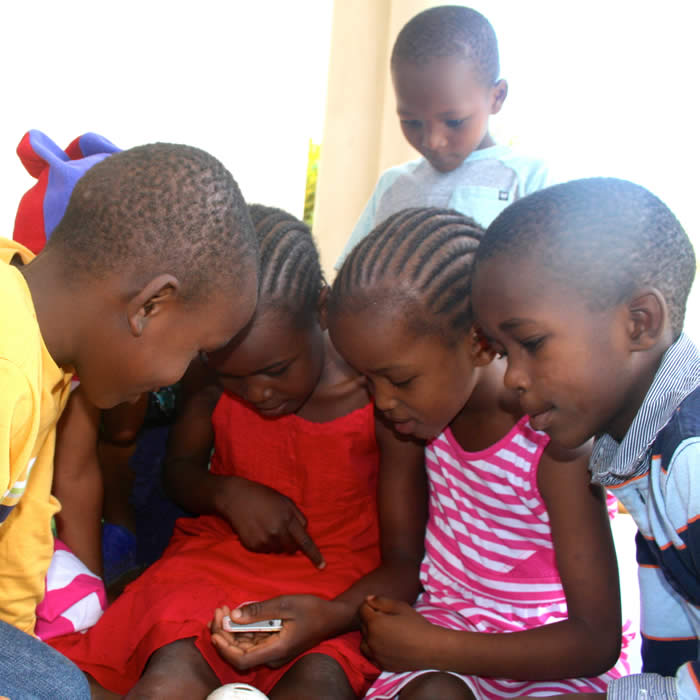 ---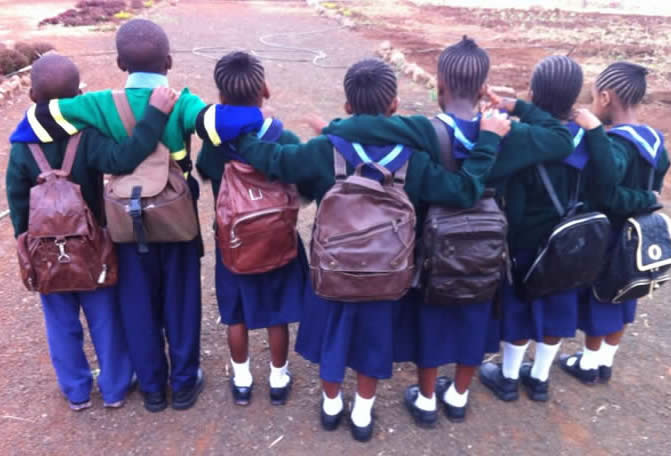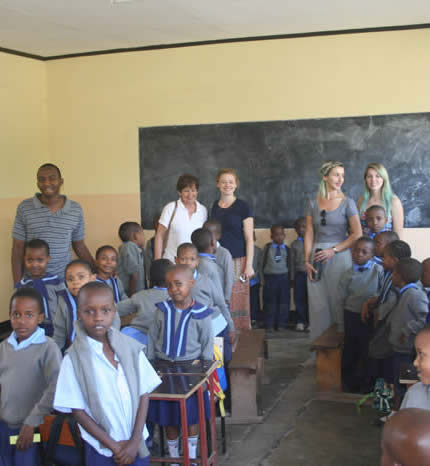 Education is a top priority for Sonshine Center. Because we provide our children with a quality education, our youth have a great advantage over many others in Tanzania. This year we were able to add another teacher for the younger kids. Our older children attend a nearby English based school, the best school in the area. Learning English is key to advancement in Tanzania. English is the "Language of Commerce" for all of East Africa. Only about 15% of all Tanzanian are able to speak English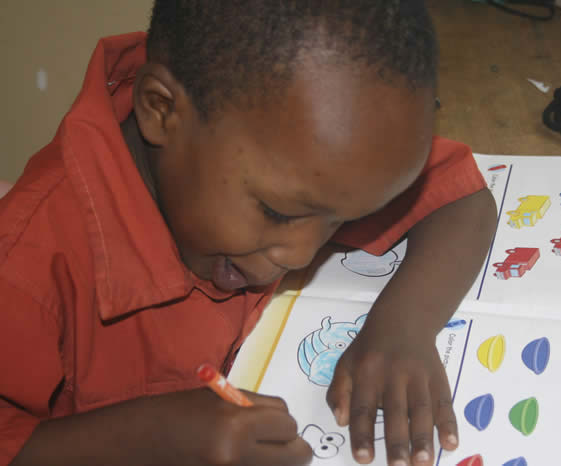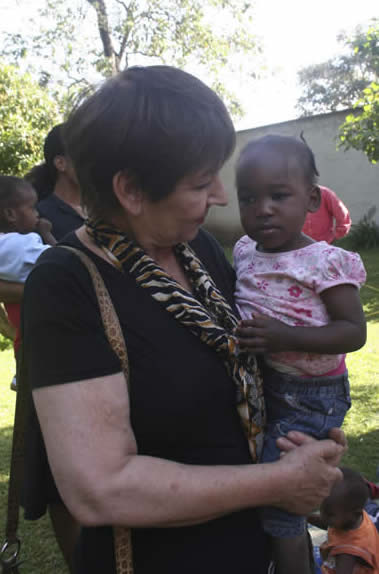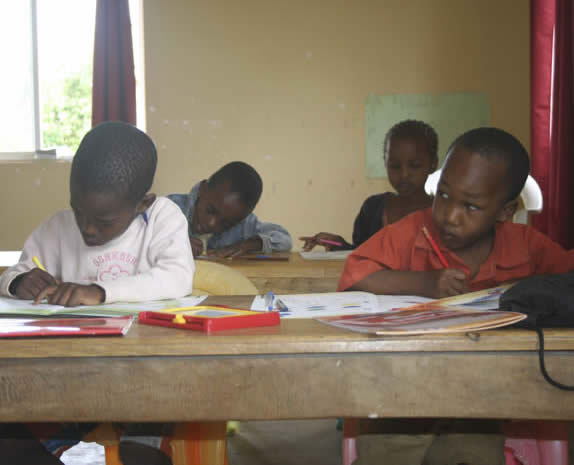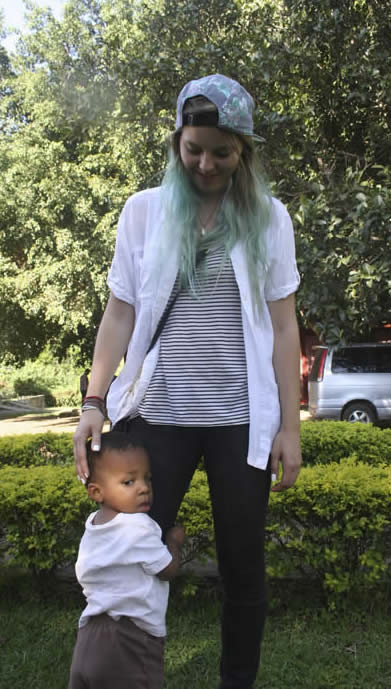 ---
Melody enjoyed time with our friend Stacey, cofounder of Global Effect Ministries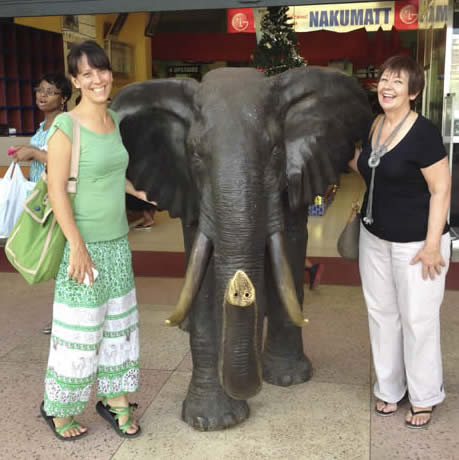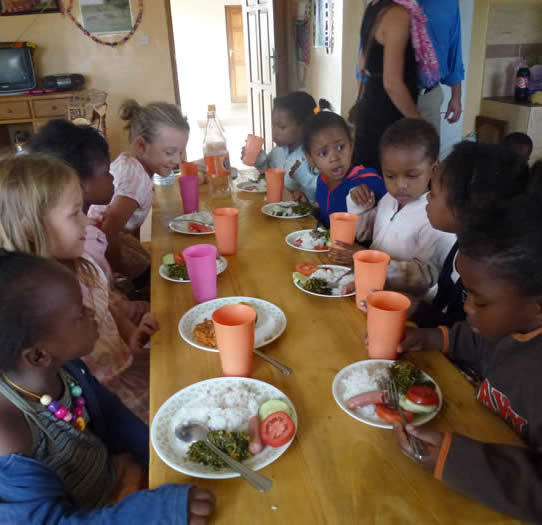 We were really blessed to spend time with several missionary friends from nearby Moshi. Not only did they make our time in Tanzania peaceful and relaxing, they helped us in many ways. On this mission trip we learned to play as well as work while in Africa, we were blessed.
---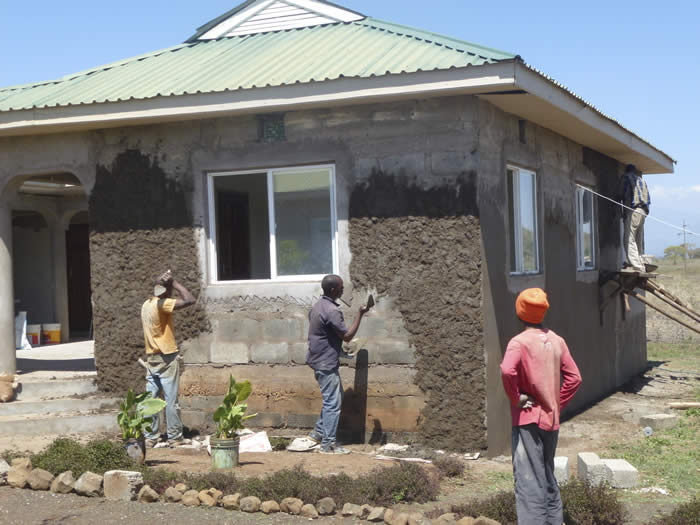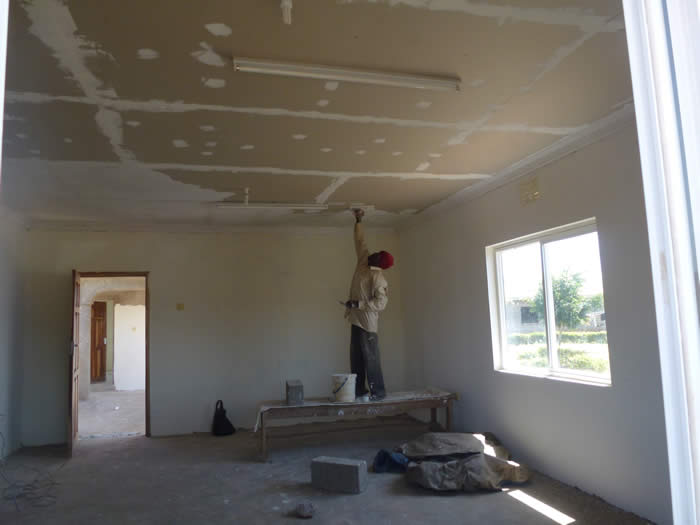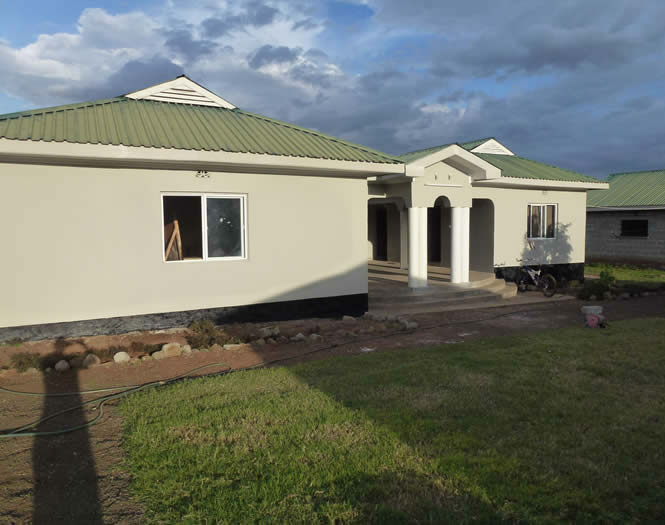 With the financial help of many of our friends and partners, we were able to nearly finish another children's home, we plastered and sheet rocked, painted and added lighting, put up curtains and built furniture, now we only need to complete the plumbing and add a bit more furnishings. Thank you to all who joined us for this important project. With this home, we are now receiving more children to Sonshine.
---
---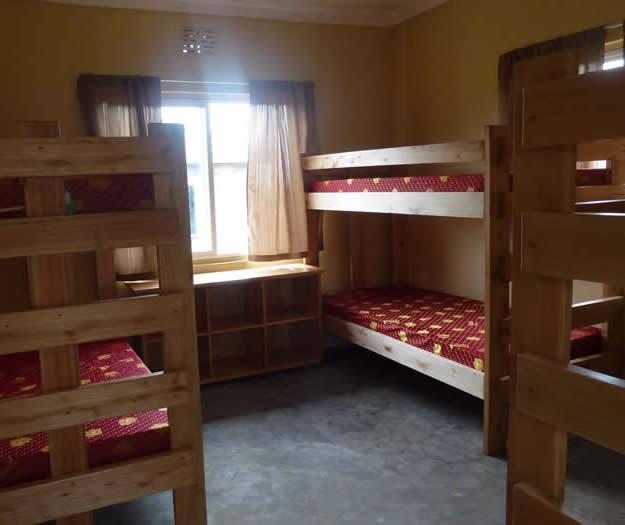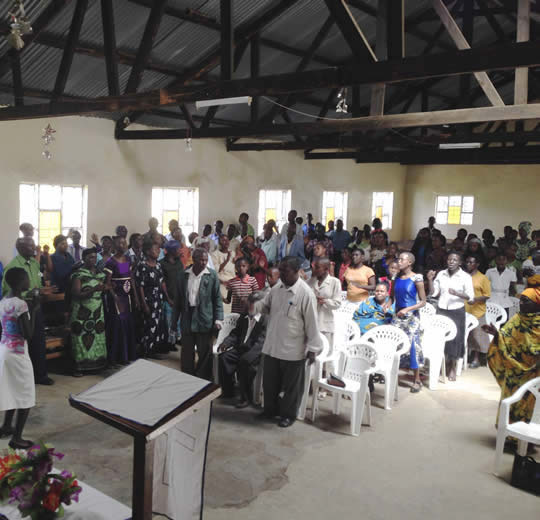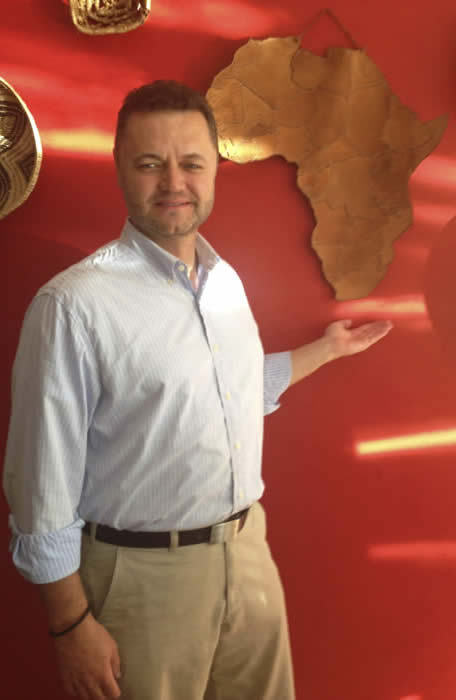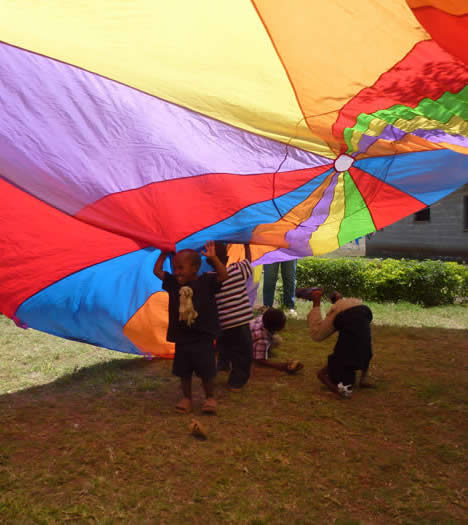 Another important project was to secure a safe access road to and from the compound. We managed to purchase a strip of land that takes us right from our place to the highway, entering at a much safer spot on the road then we had before and avoiding a difficult washout area.
We hope to return soon to complete the roadway and finish the electrical hookup to Tanzania's national electric company, and most important, receive more children!
---
A Special Time of Worship at Sonshine Village
Our Director Kendi writes us this account of Sunday worship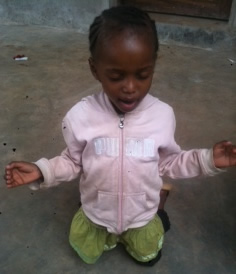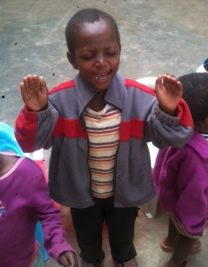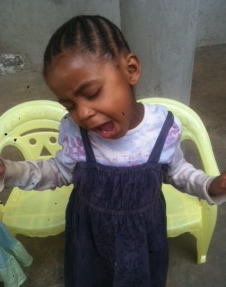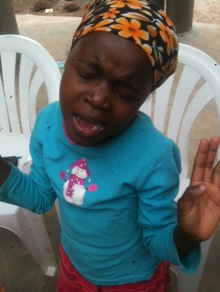 "We had some very wonderful experiences today as we conducted the Sunday service here at Sonshine. I spend time with our children in worship of God, for sure God visited us in a mighty way. These are some of experiences of how our children poured their hearts before the Lord, it was so amazing.
We spent 2½ hours in the presence of God and it was just wonderful. After that we had another time of listening to God, and God clearly spoke to us using different children.
Antonia saw an open heaven and someone clothed in white robe descending from that open heaven and rested upon Ray's shoulder where he was standing at our Sonshine gate. Then she saw all the people that were entering through our gate were receiving healing and we were all amazed.
Joshua saw some very lovely people in the whole compound clearing all the messes and correcting all dirty things that were causing pollution in our village and then the homes were all shining.
Happy saw a tap water in front of the houses that was running through-out.
Jasmine saw a picture of Zacchaeus climbing in a big tree and he wanted to see Jesus.
Our little Pendo began to sing a very powerful worship song from deep within her heart; she could not stand but just knelt down. This was her song'' The Spirit of the Lord is here baptizing every soul''
It was all so good; truly we are blessed in this place to have the presence of the Lord so, so strong."
---
June began with Sonshine Ministries Annual Banquet at Rock Creek, and we ended the month with an remarkable mission's trip to our children's home in King'ori Tanzania.
Our banquet gave us the chance to see many of our longtime partners and also share our vision with many new friends. This year's theme was Crossing the Jordan and we are already seeing a big shift in our work in Tanzania.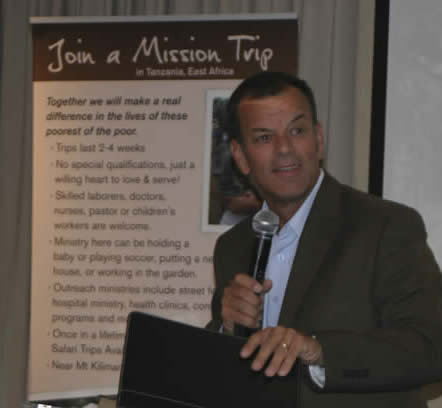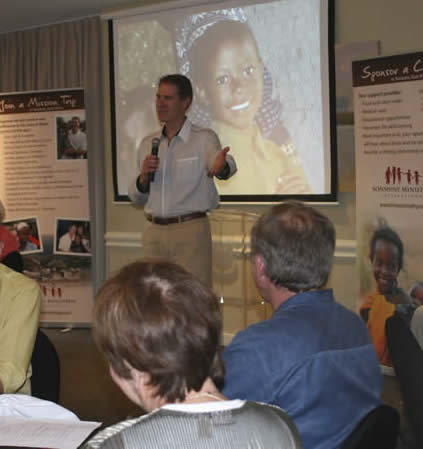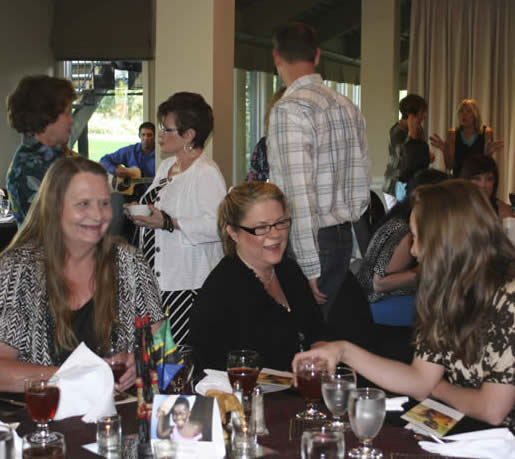 For a long time we were treated as outsiders and our ministry had to work very hard to accomplish even the simplest tasks. Now we find that we are accepted and embraced by government officials, NGOs, schools, businesses and clinics. It's crazy, just like a light switch has been turned on for us, and we are very thankful.      
Right after our banquet we traveled to Tanzania for a packed 20 days of ministry. Our team consists of Ray & Melody plus Susan Nagely from Destiny Christan Fellowship, Catherine Opere,our board member from Omaha and Pacifique from Rwanda. We also connected with new friends from Connecticut, North Carolina and Alabama while in Tanzania and had the opportunity to minister with them during the youth festival at Sanya Juu.
---
With all the construction and plans for growth at Sonshine, it's easy to lose sight of our vision so I want to take a minute to look at our calling and remind us all of the reason we are doing this work.
I recently read in one of Bill Johnson's books, he describes how the church tends to accept the world system of valuing reason as the proper measure of truth, he explains all the problems this brings to the church and to society.
Sonshine Ministries believes that both kingdom wisdom and power are available to us now and we teach through a kingdom mind-set. Our kids are learning how the kingdom of the Lord is for today and we see them already influencing those around them.
---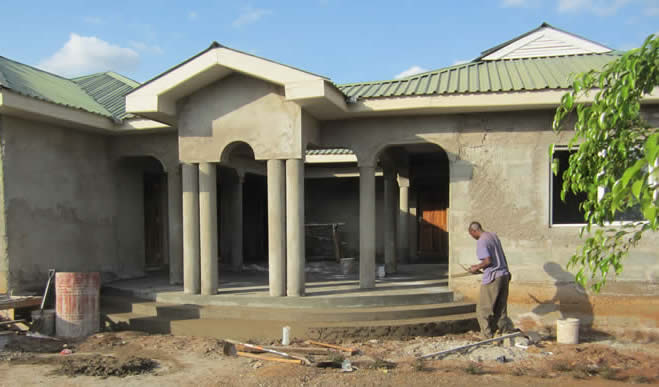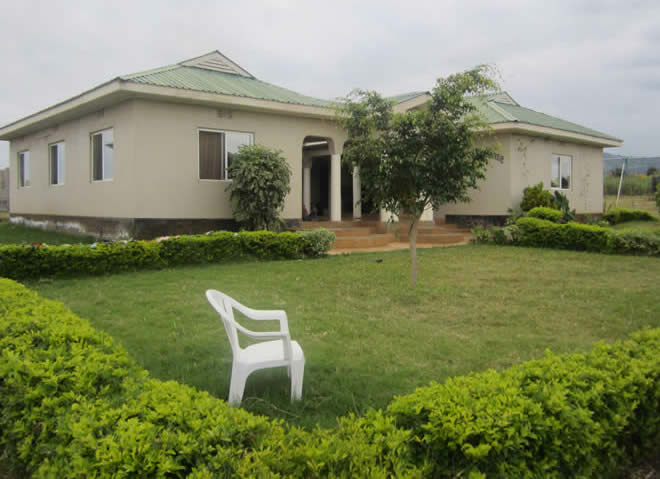 We continued the construction of Home 2, The cement will need to cure for a month or so,next we will paint the rooms, purchase furniture hopefully be able to occupy this home soon. All the rooms except the bathrooms are completed, with finished walls and flooring, ceilings installed and the full home wired and with lights, wall switches and plugs. We also installed solar panels and LED lights into this home so we will have backup lighting, even without a generator.
---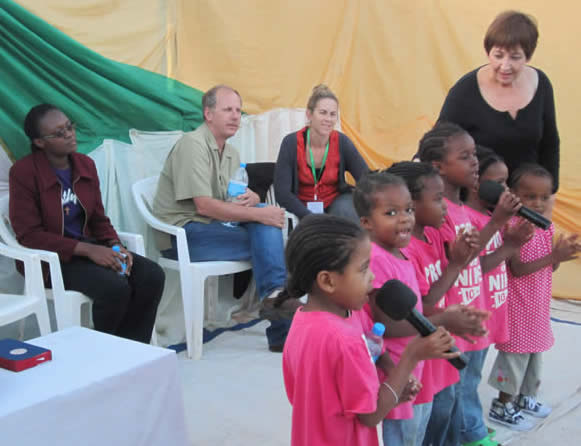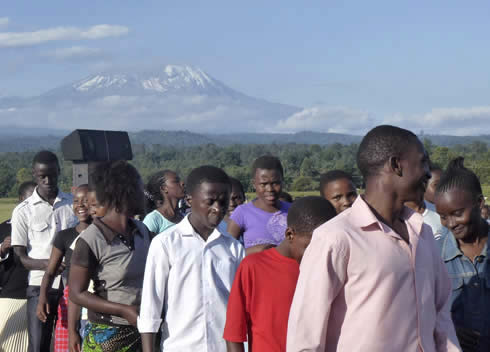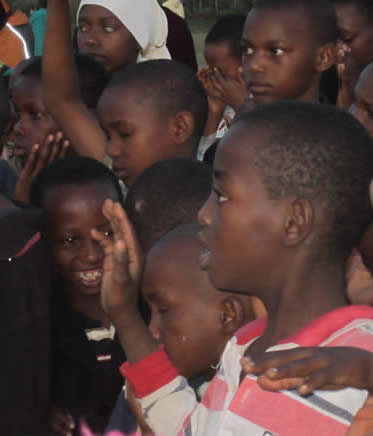 ---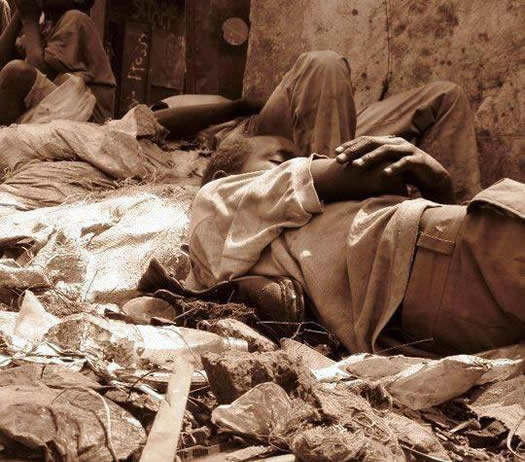 Please read this message I recently received from a friend in Uganda.
THIS IS THE HOMELESS CHILDREN
This is what they call for their home, these children who got nothing.  As we Christians, can we stop for a second and think?
The bible say our bodies are the temple of God and these the children are the kingdom of God.
Could you imagine as Christians we don't done our role and we have left God's temple on street!
Please if you are Christian and you now in Jesus Christ you please remember these little guys who Jesus give His life to save them just like He done it to you and even for me.  
Thank you and may you be mighty blessed.
---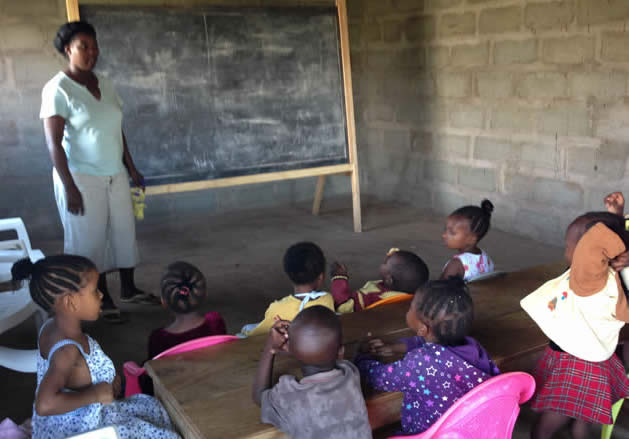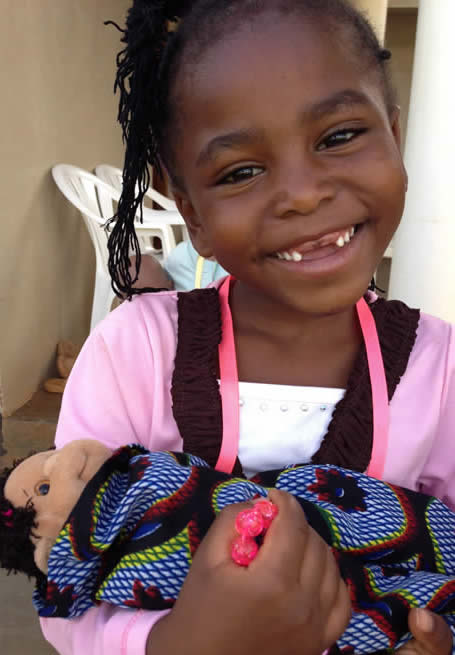 Ray's Report:
We are now home from Tanzania, Melody and I had one of the best missions' trips ever and here is a short recap.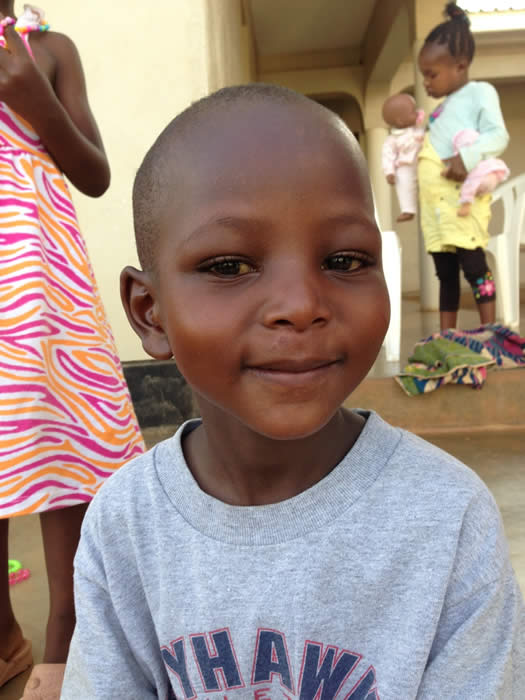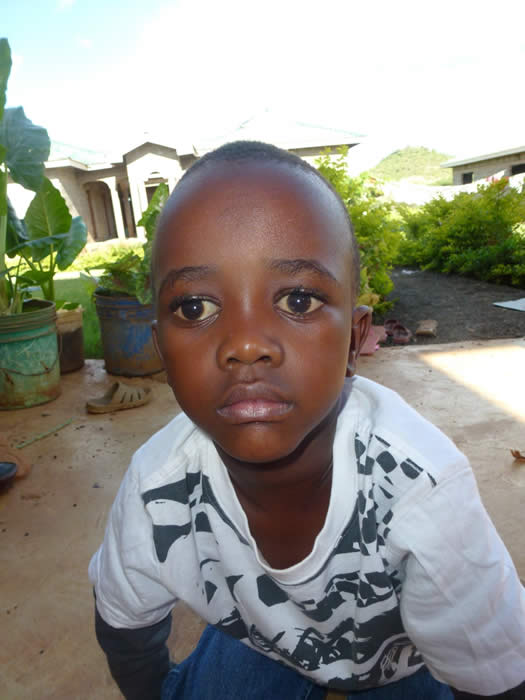 First of all we received new kids at the home, Joshua, a Masai boy who is 5 but look closer to 3. Joshua only speaks his tribal language, not even Swahili but one of our guards can speak to him and he will be quickly learning to speak in both Swahili and English. His father has passed and his mother is incapably of caring for him. He is fairly health but has the worst case of ringworm on his head I've ever seen. We also have Junior, a boy about 4 whose mother was a high school girl. In this culture, when a mother has a baby out of wedlock they often must flee or risk sever beating due to the shame to the family and tribe. Junior's mother abandoned him and left him with his 74-year-old grand father. His father is unknown. We are also receiving one more little boy from the same tribe as Joshua.. Right now the government papers are not finished and we discourage receiving the children until all the requirements are complete; without this rule we have found that the paperwork sometimes never gets turned in.
In addition to getting more kids we have accomplished a lot. We have installed the commercial swing set donated by a good friend of Sonshine; we also got new bikes for all the boys.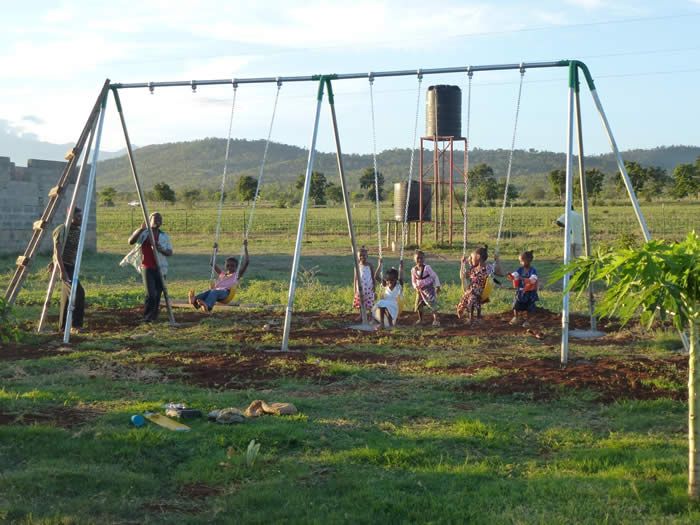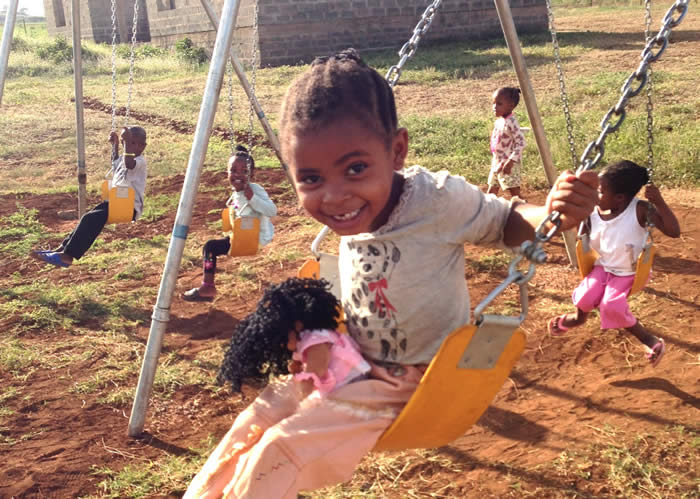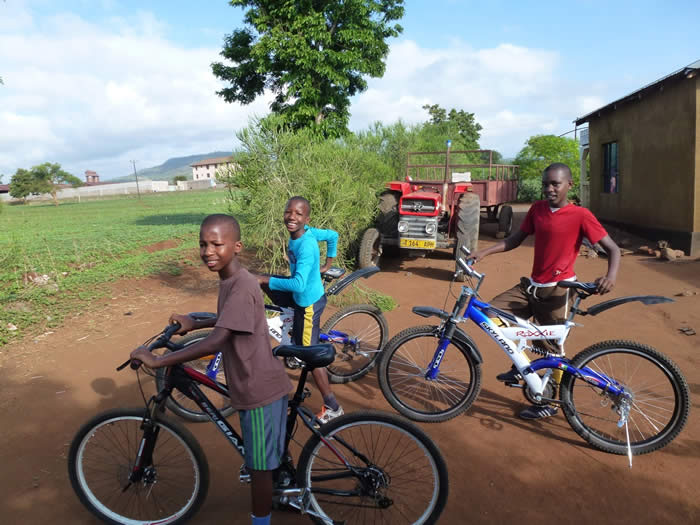 We raised the counter in the kitchen of one of the homes that was built too low by the original builder.
We finally repaired and graveled the roadway to our compound.
We had to repaint about half the rooms of our first home that had paint peeling off (bad primer from the builder).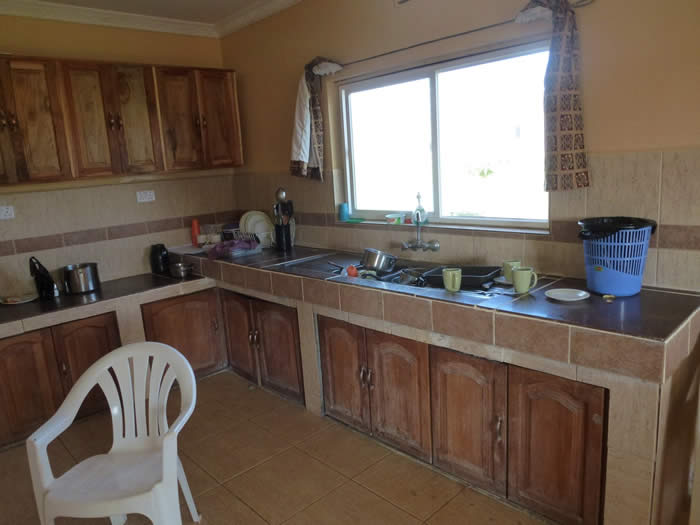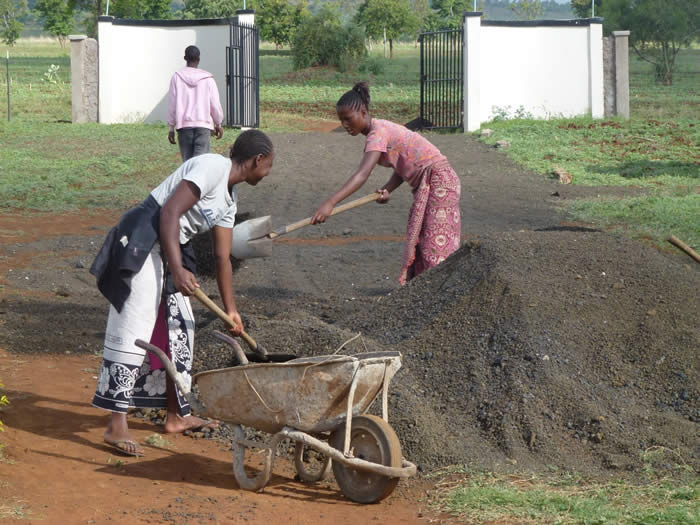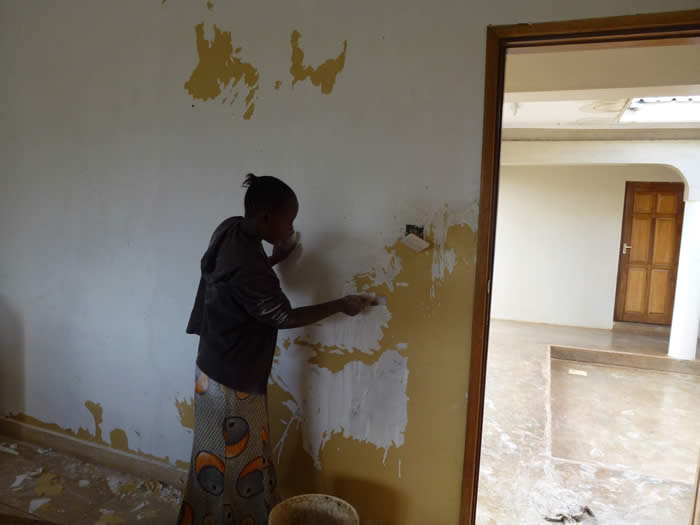 We also completed our entrance into the village with gates, walls and fencing completely around the village. Great news: we have also completed the solar lighting. We now have full solar lights in each room and outside the homes, no more dark night surprises!
.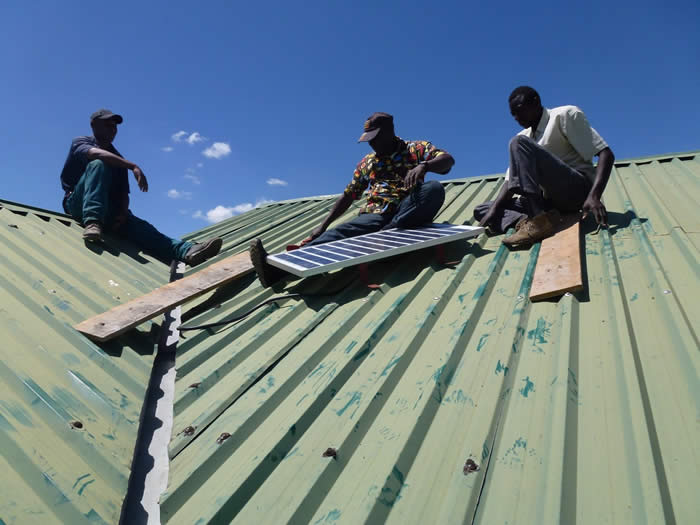 One of the focuses for this trip was to start working on completion of another home. We began by changing some of the walls to better accommodate our needs. We eliminated the laundry area, opting to build a common laundry building for all the homes in the future. We have installed all the windows, doors and door frames so our next new home is well on the way to being able to house more orphans. Yah!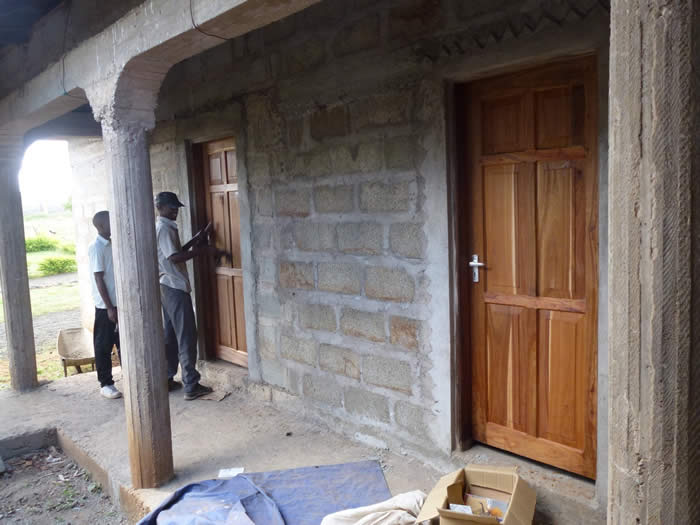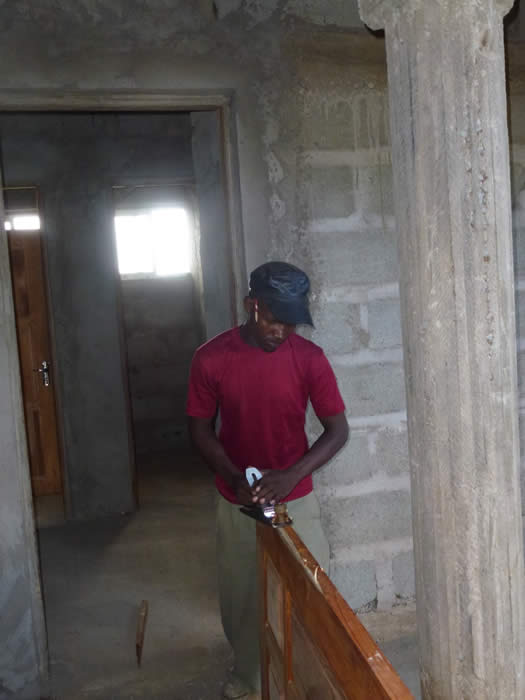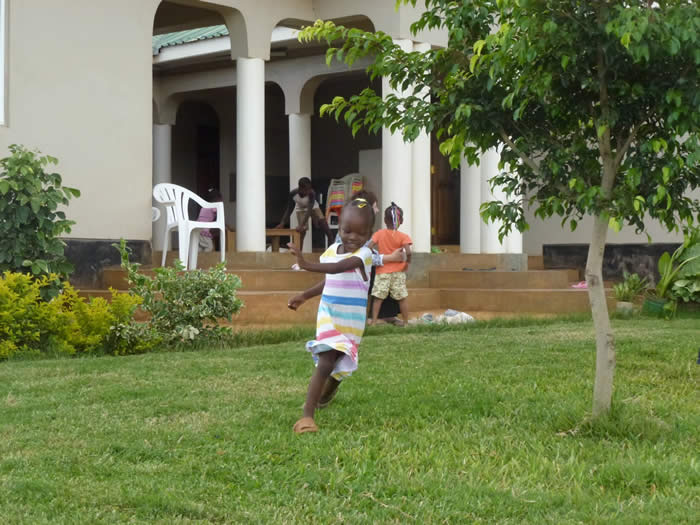 When we arrived in Tanzania in November, we knew we had some challenges; one big concern; we have 5 older boys ready for high school but there is not a quality school in the area.
We prayed about this dilemma and what we should do, the Lord really made a way. We contacted a good friend in Kenya, Weston Gitonga with Heroes of the Nation, Kenya's largest orphanage and Weston agreed to board our boys and place them at Heroes High School.
Our boys will still come home during breaks and vacations but they are set to receive a really high quality education through HTN. We're happy because this place is tops in the nation for education and, strong in English skills and uses Bethel's bible curriculum throughout.
God touches Stanley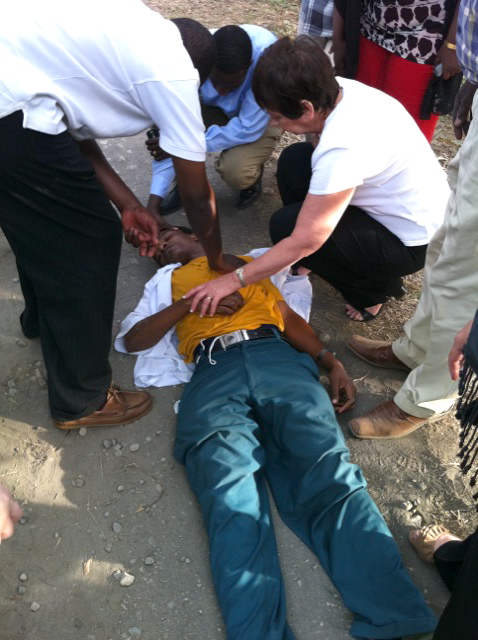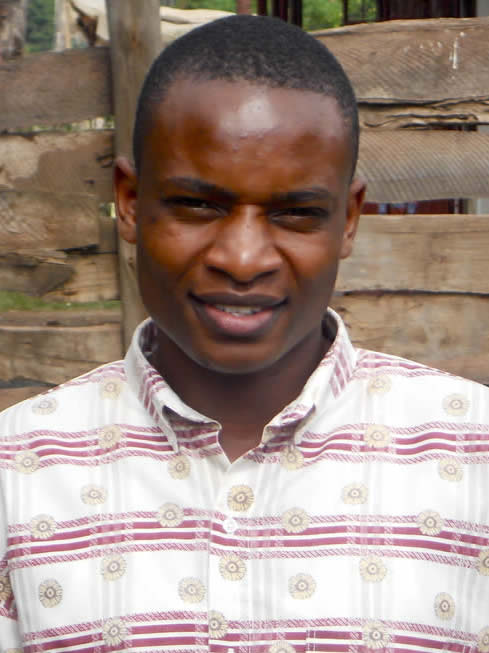 On November 9th our group had a dinner scheduled with some local leaders at a remote lodge. As we drove up the long drive we noticed two of our pastors standing on the road over a body of a young man. We jumped out and received the report that they had found the body there earlier, they found no heartbeat, no breath, his body was cold and stiff, his eyes were dull and lifeless.
Our U.S. team laid hands on this boy and began to speak life into him, just like the bible says, we prayed in Jesus' name and took authority. It seemed as though we ministered over this dead body for only a short time but it tuned out to be 15 to 20 minutes. All of a sudden there was a strong pulse and then there was deep breathing! He was alive! We were praising and rejoicing, we arranged for a vehicle to transport him to a nearby hospital. The next day we received information that this boy was fully OK. The doctors could find absolutely nothing wrong with him. Everything checked out.
Pastor Moses later interviewed the boy, his name is Stanley. We learned that he had been on his way home from school, he had been there on the ground for more then 2 hours before our friends discovered him. Stanley remembers nothing but darkness and then waking up in the hospital. He has no ill effects even though he was without oxygen or blood flow for hours.
God is amazing! In addition to all this our team allowed time to explore the land by taking 2 different wildlife Safaris, enjoying many of the sights that East Africa has to offer. This trip was one of our very best experiences ever for our team in Africa. If you would like to be part of a ministry trip to Tanzania please contact us for more information.
---